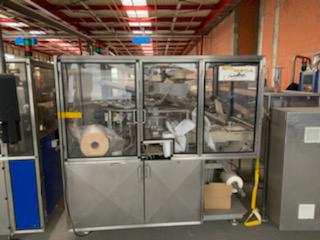 HYG30 wrapping machine - tooling Ø140 mm
Waterproof closed stainless steel frame receiving the mechanics by cams.
–
Paper pulling system with pneumatic clamps.
Paper unwinding with a fixed reel holder.
Paper cutting system with rolling knives.
Stainless steel electrical cabinet.
Movement controlled by electronic encoder.
Stainless steel casing and door safety.
End of reel detection cell.
Length 2000 mm
Width 1450 mm
Height 2000 mm
SPEED : 3000 cheeses/hour
PAPER SIZE : 320 x 320 MAX.
PRODUCT DIMENSIONS : MIN.25 MAX.160
ENERGY : 220-380 V Triphasé 1.5 kW
AIR : 6 bars
CONTROLLER/ENCODER : OMRON
PNEUMATIC : SMC
ENGINE : SEW
VARIATOR : TELEMECANIC
CELL : IFM
SPOT DETECTION : TELEMECANIC
DOOR SECURITY : TROJAN